High-strength trapezium mill are sometimes also called suspended roller trapezium mill or ore trapezium mill. They have the advantages of high output, many applicable materials, wide range of finished product particle sizes, and good sealing, which can provide users with more convenient milling operations. higher milling efficiency, widely used in major industrial milling fields.
Production capacity: 3-52 tons/hour
Finished particle size: 0.613-0.033mm
Applicable materials: limestone, calcite, calcium carbonate, dolomite, barite, talc, gypsum, diabase, quartzite, bentonite, etc.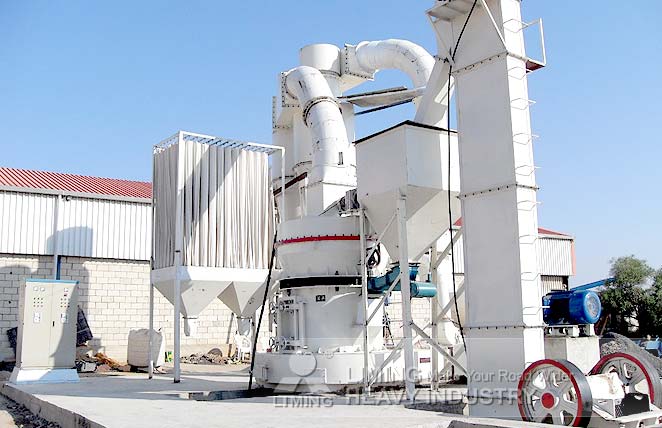 Performance advantages of high-strength trapezium mill
Compared with other mills, the output is increased by 10-20% under the same dynamic conditions, and the grinding force of the grinding rollers on the material is increased by 800-1200kg under the action of the high-pressure spring.
Mineral materials with Mohs hardness less than 9.3 can be processed and crushed. The grinding device adopts overlapping multi-stage sealing, which has good sealing performance.
The finished product has a wide range of particle size, the particle size can reach 0.613 mm (30 mesh), the particle size can generally reach 0.033 mm (425 mesh), and a small part of the material can reach 0.013 mm (1000 mesh).
The dust removal effect fully meets the national dust emission standard. The analyzer is easy to adjust.
The working principle and structure of the high-strength trapezium mill
After the material is crushed to the required particle size, it is sent to the storage hopper by the elevator, and the material is uniformly, quantitatively and continuously fed into the main grinding chamber by the vibrating feeder. When the motor is working, the central shaft is driven by the transmission device to rotate, the grinding roller on the plum blossom frame runs in the grinding ring, and the lower end of the plum blossom frame is equipped with a shovel blade system to shovel and feed the material between the grinding roller and the grinding ring to form a bedding layer . The material layer is crushed by the outward centrifugal force (that is, the extrusion force) generated by the rotation of the grinding roller, thereby achieving the purpose of milling.
The main structure of the high-strength trapezium mill is composed of blades, motors, shells, spring seats, rolling mills, grinding rollers, and closed gearboxes. The important parts are made of high-quality steel, and the wear-resistant parts are made of high-performance wear-resistant materials. The whole machine has high wear resistance and reliable operation.
Specifications – Technical Data