The motion trajectory of YK series vibrating screen is circular, which is a universal and standardized screening equipment. It uses the shaft eccentric vibration exciter to generate the exciting force, which makes the screen box move in a similar circular motion. It has the characteristics of high screening efficiency and large screening volume. YK series vibrating screen The surface is divided into single-layer, double-layer and multi-layer. YK series vibrating screen can be widely used in the dry classification of various granular and small block solid materials in industries such as mineral processing, building materials, electric power, light industry and chemical industry.
Max. Capacity: 700t/h
Max. Input Size: 400mm
Min. Power: 15Kw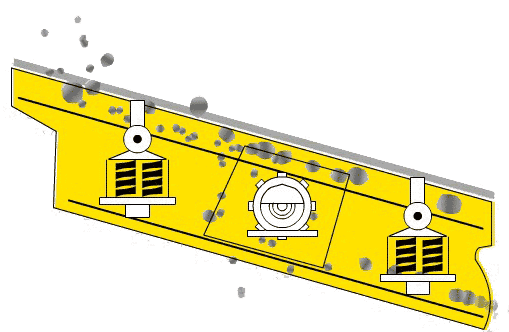 YK series vibrating screen
YA series vibrating screen is mainly divided into five categories according to its screen mesh specifications. Each type is divided into light, heavy, single-layer and double-layer. There are more than 20 varieties. 6mm-150mm, feeding particle size 50mm-400mm, high efficiency, fast screening speed, can meet various screening needs.
High screening efficiency.
High capacity and reliability.
Long bearing lifetime.
Easy maintenance.
Pivoting motor bases.
Special eccentric shaft creates circular throw action.
The working principle of YK series vibrating screen
YK series vibrating screen, as a kind of screening equipment, is mainly rotated by the unbalanced heavy wheel of the exciter, which generates radially changing centrifugal inertia force (exciting force), and drives the screen box to make the screen vibrate. mechanical. The motion trajectory of the screen frame is an ellipse. The material on the screen is thrown up by the force of the upward movement of the screen surface, and after advancing for a certain distance, it falls back to the screen surface. This is repeated, and the screening is completed in the process of moving from the feeding end to the discharging end. The vibration amplitude of the vibrating screen can be adjusted by changing the weight and position of the counterweight.
Specifications – Technical Data