Finished particle size: 0-5mm
Processing capacity: 50-500T/H.
Composition equipment: vibrating feeder, jaw crusher, sand making machine, vibrating screen, sand washing machine, belt conveyor and other equipment;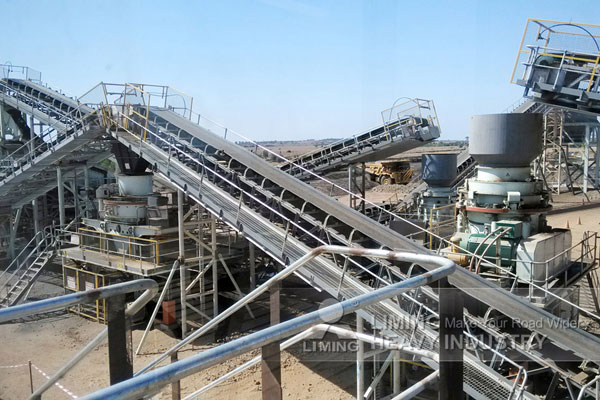 Process flow of sand making production line
The stone is evenly sent to the jaw crusher by the vibrating feeder for coarse crushing, the coarsely crushed material is sent to the fine jaw crusher or the impact crusher for re-crushing, and the crushed material is sent by the belt conveyor to vibrate The sieve is used for screening, and the stones that meet the feeding particle size of the sand making machine are used for sand making, and those that do not meet the requirements are returned to the fine jaw crusher (impact crusher) for re-crushing.
The stone material from the sand making machine enters the vibrating screen again for screening, and the sand that meets the requirements is screened out, and then enters the sand washing machine for cleaning. After cleaning, the finished product is conveyed by the finished product conveyor belt; , sent to the sand making machine for re-crushing, the production line finally forms a 2-stage closed-circuit cycle, and various configurations can be made according to the needs of users.
Environmentally friendly sand production line
The use of environmentally friendly crushing and sand making equipment, fully sealed labyrinth structure dust removal technology, the overall sealing type is strong, and the dust removal effect is good.
Equipped with high-standard dust collectors, mufflers, conventional spray facilities, etc., to avoid dust and noise during operation.
You can also choose to build an operation workshop, a closed conveyor belt, and a recyclable reserve workshop for finished materials, which improves the quality of finished aggregates and the proportion of high-quality aggregates.
Sand production line investment
Investing in a sand-making production line requires comparing manufacturers, selecting the right equipment model, then transporting, installing and debugging. After the official production line, there are various concerns about whether the production effect and production capacity can meet expectations. Liming Heavy Industry has professional technicians to rationally design production lines for users, and match them with a more scientific complete set of sand-making production line equipment to ensure that users' investment is reduced and the income value is increased.