Quartz sand is an important industrial mineral raw material, with a Mohs hardness of 7 and a density of 2.65. Different processing makes it different in application. The quartz sand production line has a high degree of automation, low operating costs, large output, less pollution, and easy maintenance. The produced machine-made sand meets the national construction sand standard, with good grain shape and reasonable gradation.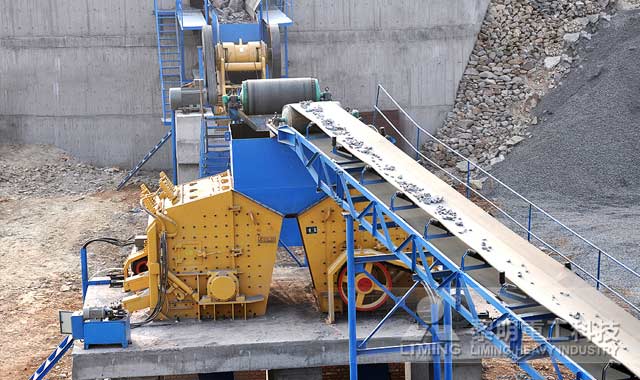 Quartz raw ore is sent to the jaw crusher through a vibrating feeder for coarse crushing, and the coarsely crushed quartz stone is sent to the cone crusher for secondary crushing by the conveyor, and the secondary crushed material is screened by a vibrating screen. The sand machine feeding requirements are returned to the cone crusher for crushing again, and the materials that meet the feeding size of the sand making machine are sent to the sand making machine for fine crushing. The sand machine continues to crush, and those that meet the requirements are sent to the sand washing machine for cleaning. The cleaned quartz sand can be dehydrated to obtain finished products.
Coarse crushing_jaw crusher
Large pieces of quartz stone enter the jaw crusher through the vibrating screen for coarse crushing. If the particle size of the raw material is large, there is no need to worry about material blockage. The crushing can be started at the upper part of the crushing chamber. The lower part has a larger stroke and a larger crushing ratio. The traditional plate-type adjustment method is different. The wedge adjusts the discharge opening, which reduces the labor intensity and downtime of the workers. The particle size adjustment range of the finished product is 10-350mm, and the particle size is uniform, which is conducive to the secondary crushing process.
Medium Crushing_Cone Crusher
According to the Mohs hardness of quartz sand, the cone crusher not only meets the needs of use, but also has strong wear resistance when processing hard materials, solves the problem of high operating costs in the later stage, and prolongs the service life. The discharge port is adjusted by the hydraulic motor, and the adjustment operation is convenient. , The range is 3-60mm, the laminated crushing cavity design is adopted, and the finished products are mostly cubic structures, which greatly reduces the needle-like materials.
Fine Crushing_Sand Making Machine
Combining the two working methods of stone-on-stone and stone-on-iron, it is suitable for materials with medium hardness and high corrosiveness, and the particle size of the finished product is less than 4.7mm (coarse sand, medium sand, fine sand), with good grain shape, high cubic content, needle Less flakes and reasonable gradation, even if it handles high-hardness materials, the service life of the wearing parts is very long. The combined throwing head is adopted, and the surrounding guard plate can be turned up and down, which reduces the operating cost.